Leasing Map
<![endif]-->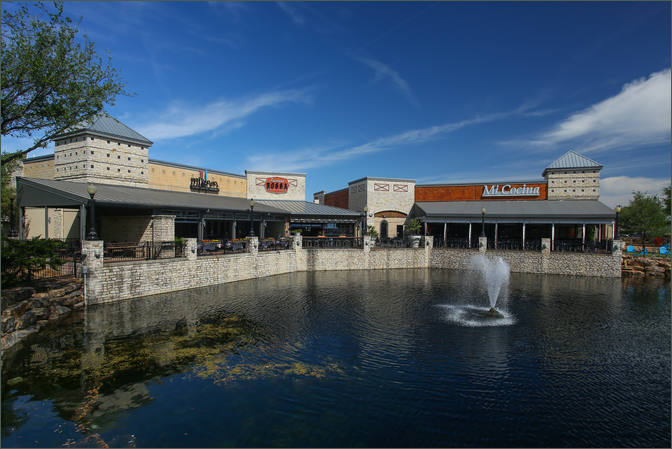 Lakeside Market
4001 Preston Road


Plano

, TX

75093



Class A Shopping Center located at the SWC of Preston Road and Spring Creek Parkway.

The property is home to some of the most popular restaurants in West Plano. This includes: Mi Cocina, Taverna Rossa, Bread Winners, Seabreeze, Kenny's Burger Joint, and Ziziki's .

The ownership recently completed a renovation of the property, which includes new standing seam awnings, a facade re-stain, and an impactful landscaping makeover.
Demographics
| | 3 Mile | 5 Mile |
| --- | --- | --- |
| Population | 116,478 | 327,495 |
| Daytime Population | 158,480 | 361,828 |
| Avg HH Income ($) | 137,125 | 122,967 |
Traffic Counts
| | |
| --- | --- |
| Preston Road | 53822 |
| W. Spring Creek Pkwy | 30845 |
Highlights
For Lease
County: Collin
Total SF: 162,645

Leasing Contact
William Rosatti, CCIM
Leasing Contact 1717 Main Street, Suite 2600
Dallas, Texas 75201
p. 214-294-5911
c. 901-218-7593

Lakeside Market
| | |
| --- | --- |
| Available | Coming Available |
Available Spaces
| | | | | |
| --- | --- | --- | --- | --- |
| B532 | 2,831 SF | | C562 | 3,141 SF |
| C572 | 1,248 SF | | G594 | 4,340 SF |
| | | |
| --- | --- | --- |
| B520 | Creekview Realty | 3,116 SF |
| B521 | The Bar Method | 2,936 SF |
| B524 | Allegiance Title | 5,281 SF |
| B525 | Luxe Salon | 2,648 SF |
| B530 | Sea Breeze Fish Market & Grill | 3,507 SF |
| B535 | Corner Wines | 1,834 SF |
| B536 | The Consignerie | 4,594 SF |
| B540 | Cycle Bar | 2,947 SF |
| B542 | Gracie Gym Jiu Jitsu | 5,641 SF |
| B544 | Berkeley Academy | 3,364 SF |
| B545 | Lakeside Pet Groomers | 2,997 SF |
| B546 | KJ Dance | 8,000 SF |
| C554 | City Salon Suites & Spa | 9,475 SF |
| C558 | Studio 6 Pilates | 3,103 SF |
| C560 | Dance Vision | 3,345 SF |
| C564 | F45 Training | 2,328 SF |
| C565 | D&J Sports | 2,234 SF |
| C570 | Steinway Hall Piano | 5,355 SF |
| C574 | Texadelphia | 2,100 SF |
| D611 | Bread Winners Cafe & Bakery | 5,794 SF |
| D614 | Sharon Ketko | 1,700 SF |
| D616 | Juice Bar | 1,347 SF |
| D618 | Kobe Teppan & Sushi | 6,033 SF |
| D620 | Crave Popcorn | 1,279 SF |
| D622 | Designing Windows | 2,808 SF |
| D623 | Castle Nail and Spa | 2,653 SF |
| D624 | Sugar Ray's Bake Shop | 1,008 SF |
| D625 | Jalin Jewelers | 2,984 SF |
| E576 | Paper Affair | 3,201 SF |
| E577 | Stretch Zone | 997 SF |
| E578 | Ziziki's Pita Bar | 3,169 SF |
| E580 | Sur La Table | 6,539 SF |
| E582 | Alphagraphics | 1,996 SF |
| E584 | Fitness Together | 1,198 SF |
| E585 | GNC | 1,061 SF |
| E586 | State Farm Insurance | 944 SF |
| E587 | Youjuku Tutoring School | 796 SF |
| E588 | Kenny's Burger Joint | 3,420 SF |
| E590 | Labels Boutique | 997 SF |
| F602 | Starbucks | 1,605 SF |
| F604 | Mah-Jong Chinese Kitchen | 2,108 SF |
| F606 | Renee Rouleau | 1,362 SF |
| F608 | The Posh Petunia | 876 SF |
| G598 | Petals, a Florist | 1,646 SF |
| H502 | Mi Cocina | 4,781 SF |
| H506 | The Boardroom Salon | 1,831 SF |
| H510 | Painting with a Twist | 2,704 SF |
| H512 | Taverna Rossa | 3,821 SF |
| H518 | Mignon | 4,960 SF |
Lakeside Market